As 2021 comes to a close, Brands on a Mission is signing off for the holidays. It's been a hugely important year for us, so we thought we'd share some reflections and what's been keeping us busy.
Reflections on 2021
Although Brands on a Mission was founded over two years ago, 2021 has been our first year of full operation. We have concentrated on developing an innovative product suite that both represents our core values and responds to market needs.
We have moved beyond 'inspirational talks' and advocacy to founding meaningful partnerships with organisations and brands to catalyse their social missions. This has centred around co-creating purposeful and measurable behaviour change programmes, building multi-sectoral partnerships and rethinking marketing processes in order to drive social impact in new and more expansive ways. In particular, we have spent time developing our signature Purpose2Impact tool which enables organisations to measure their real-world impact. We are excited to share more news on this in the new year!
Despite shifting our focus towards long-term client partnerships, we have continued to strive to be a thought-leader in the era of purpose. We have been involved in numerous speaking opportunities and have regularly shared our musings through our social media platforms and Substack newsletters. Indeed, over the past year we have published 10 newsletters, growing our followership surely and steadily.
2021 has also been a year of important external recognition. Firstly, back in July we were selected by Stanford Seed as one of the most promising businesses in Asia and Africa. As a result, we are part of the Stanford Seed Class of 2022, embarking on their transformation programme which provides leadership training, coaching and networking support. We hope that this will enable us to achieve the type of transformation we desire to really drive our mission in 2022.
Secondly, and undoubtedly our biggest recognition yet, we are incredibly excited to announce that we have just finalised our B Corp Certification! This certification is a recognition of what we stand for and represents a golden standard which will remain our north star.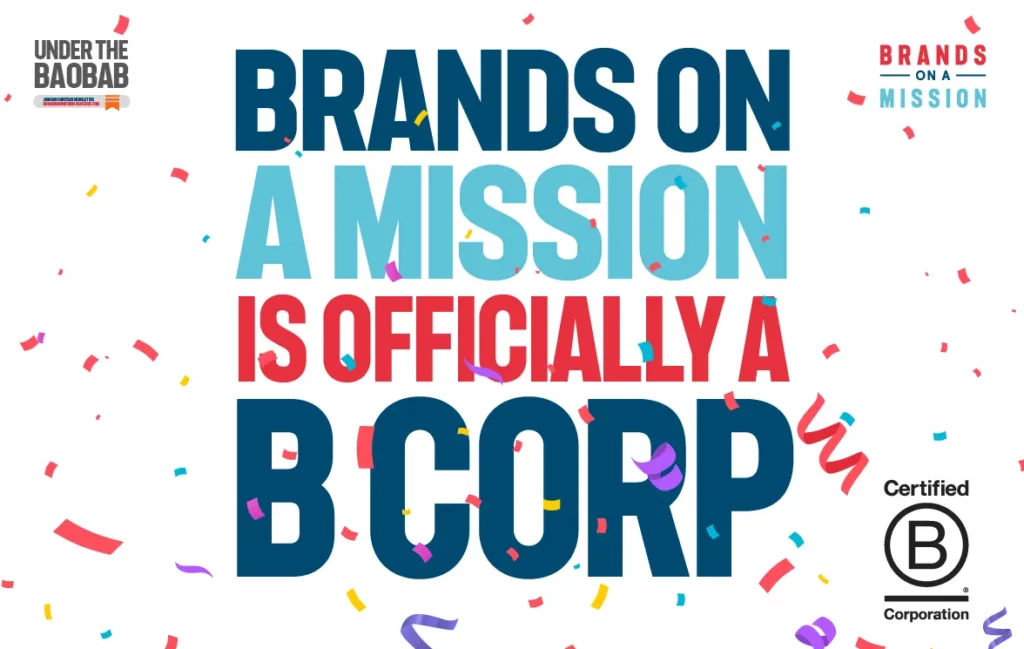 None of this would have been possible without our team of purpose-driven individuals working incredibly hard from all corners of the globe. We have made huge progress in establishing ourselves as a home for passionate intrapreneurs seeking to drive social impact. Through building a strong internal team, we have been able to advance our processes as we seek to move from a start-up model to a more established organisation. In parallel, we have grown our network of external consultants and advisors who regularly lend us their expertise on various projects, and to whom we are deeply grateful.
The Client Partners that have been keeping us busy
This year we have worked with a range of client partners, some old but many new. The opportunity to work across multiple social issues with a range of household brands and corporations has been hugely rewarding for us all.
Goodknight, Godrej
We have been helping Goodknight, the market leader in the Indian household insecticide category, with their purpose work.
AB InBev
AB InBev, the world's largest brewing company, is a long-term partner of ours. Following an evaluation of the impact of AB InBev's smart drinking goals, we have developed a social norms marketing toolkit to reduce the harmful use of alcohol. This will be delivered to all AB InBev marketeers next year.
Nestlé Pure Life
We are working with Nestlé Pure Life on healthy hydration. More information to follow in 2022!
Additionally, this year has also been one of a few firsts in terms of our client partners. We have created our first partnership with a public sector entity, and excitingly, a UN agency:
UNFPA
We are working with UNFPA, the UN's Sexual and Reproductive Health Agency, to equip regional staff with the skills needed to increase effectiveness of raising resources (funds and expertise) from the private sector.
Secondly, we have embarked on our first partnership with a B2B corporation:
Givaudan
We are partnering with Givaudan, a leader in taste and wellbeing, fragrance and beauty, to support them in creating a strong strategy for their communities pillar, as part of their newly formalised corporate purpose.
Looking Forward to 2022
Next year we look forward to both deepening our relationships with our current client partners and creating new partnerships. This will enable us to drive impact across an even more diverse range of social issues, and in turn touch the lives of more communities across the globe.
We are excited to continue working towards our goal of catalysing US $1 billion investment in sustainable business models, in order to advance the lives of 100 million people and contribute to the achievement of the SDGs.
However, we are now off to recharge our purpose! We'll be back with a newsletter in January. Happy holidays to all our readers, and thank you for joining us on our journey thus far.